Commonfund Higher Education Price Index (HEPI) data show that inflation for colleges and universities was 2.8 percent for fiscal year 2018, a decline from last year's 3.3 percent but higher than the average of 2.4 percent for the preceding five fiscal years. Over the past 10 years, FY2018 HEPI was the third highest rate of inflation, trailing only FY2017 and FY2014.1
For FY2018, costs rose in all eight of the components tracked by HEPI; a year ago, costs rose in seven of the eight, the only exception being supplies & materials. The chief causes of the increase in HEPI from FY2016 to FY2017 were: a 14.5 percent increase in utility costs; a 4.1 percent increase in fringe benefits; and a 3.7 percent increase in service employee costs. This year, the largest increases were 3.4 percent in service employee costs and 3.2 percent in faculty salaries. They were the only two cost components to reach or exceed the 3.0 percent level.
Supporting Data
All other costs were in the 1.7 percent range, from 1.7 percent for utilities to 2.9 percent for clerical costs. Close behind, supplies & materials rose 2.8 percent. Other cost increases were: 2.2 percent for administrative salaries, 2.3 percent for fringe benefits and 2.4 percent for miscellaneous services.
Utilities, which last year represented the greatest single cost increase, was this year's lowest cost increase. Utility costs have been highly volatile in recent years, as they declined 20.2 percent in FY2016 and 13.1 percent in FY2015. Service employee costs, the largest increase this year, was the third highest increase last year.
The increase in costs for supplies & materials was only the second time in the past six years that this component
has risen.
While service employee costs rose 3.4 percent in FY2018, they account for only 8 percent of cost factor weightings overall. The second-highest increase, faculty salaries at 3.2 percent, account for 35 percent of cost factor weightings, by far the largest. The third-highest increase this year, clerical costs at 2.9 percent, represent the second-largest weighting factor at 18 percent.
5-Year Changes in Cost Factors
The following figure shows a graphical representation of the changes in the eight cost factors from FY2014 to FY2018. The chart shows that six cost factors were reasonably stable over the period, rising steadily but not dramatically in any single year. The other two cost factors showed considerable volatility. As mentioned, the most dramatic year-over-year changes have occurred in utilities, which had an inflation rate of 14.5 percent for FY2017, versus -20.2 percent for FY2016 and -13.2 percent for FY2015.
This year, utilities showed the least rate of change in the five-year period, rising 1.7 percent. While supplies & materials spiked in FY2014, exhibiting an inflation rate of 11.2 percent, for the next three fiscal years costs in this component declined by an average of 3.7 percent annually. Costs for this component changed direction this year, rising 2.8 percent. Faculty salaries, accounting for the largest single share of the regression weighting, increased an average of 2.5 percent annually over the period from FY2014 to FY2018 (although we caution that the methodology for this computation changed beginning in FY2015).[1]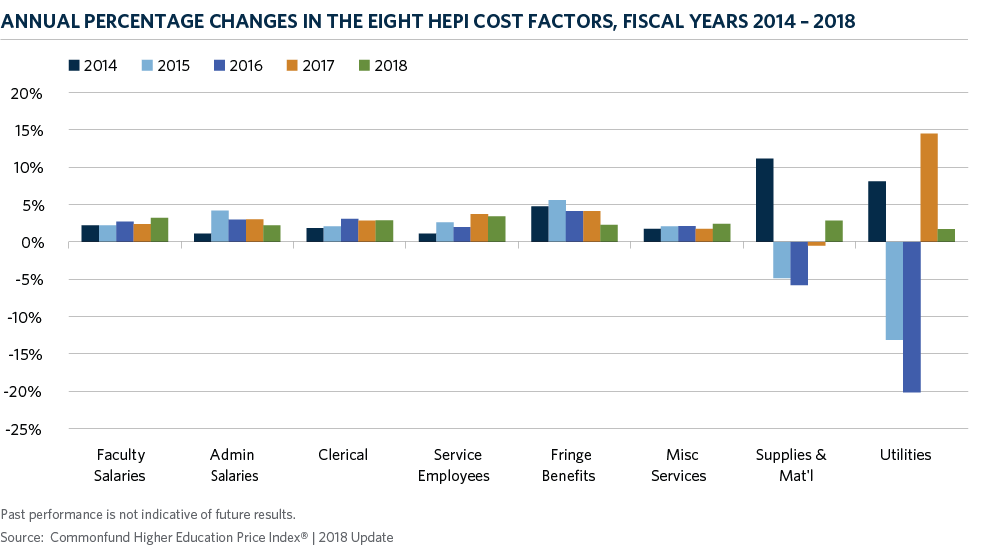 Learn More
[1]Download complete study to learn more about methodology change.