Finding the right investment governance model for your institution isn't about size. In the hyper-competitive world of endowment management, something curious happens when the word used to describe the size of an endowment changes from starting with the letter "M" to a word that starts with the letter "B." Yes, Billion. With a "B." It even happens when the b-word is on our horizon, either realistically or not. There is something aspirational in having a billion-dollar endowment.
The NACUBO-Commonfund Study of Endowments® (NCSE) even reports data by size, with $1 billion being the final frontier. But despite the obsession, this single number remains arbitrary and likely not the guidepost we should use to make strategic decisions.
What we are talking about, of course, is that as institutions approach the magical billion-dollar threshold, they begin to think they should do something differently or at least consider doing something differently. Why? It would appear to be for no other reason than the fact that the letter has changed, or is expected to change, from "m" to "b." We often hear, "now that we are at $1 billion, we should 'fill in the blank – go direct, hire a CIO, build an investment office, etc.'" We rarely hear "now that we support X% of the operating budget we should 'fill in the blank – go direct, hire a CIO, etc.'" or "now that our target return has changed from X to Y we should 'fill in the blank…', you get the point. Most recently, we have had several conversations with institutions with asset pools ranging in size from $500 million to $2 billion around governance structure and implementation approach. "Should we hire a CIO now that we are nearing $1 billion?" "Are we too large to outsource with a pool of $1 billion?" "Would a hybrid approach work for us?" The dilemma for institutions this size is that they feel too big to simply do what they have been doing, such as investing in fund-of-funds or using a traditional consultant approach, but are perhaps too small to build a successful in-house/internal investment office. Unfortunately these are not easy yes or no questions and are more likely answered with "it depends."
An institution's decision to hire a CIO depends on many factors such as ability to attract and retain a talented one (assuming you can determine what talent is), the level of discretion your investment committee would give that CIO, and whether you have the resources to build a team to support that CIO. On top of that is the burden of building and maintaining risk systems and the requisite infrastructure. In this case size actually does matter, simply due to the resources needed to support such an effort. Of course, the potential dream pay-off is that you hire the next David Swenson, build a 20-person investment office and generate a 10% annualized return over the next decade. However, simply because you build everything internally doesn't guarantee success, as Harvard Management Co. continues to discover after the departure of their sixth CEO (including "interims") in a decade. Among the other challenges, the reality of compensating and retaining a talented investment team is not always sustainable in the context of a non-profit setting such as a University campus or Foundation.
While our NCSE data show that outsourcing has become more popular overall, it has in fact become more popular among larger institutions, more than doubling over the past six years.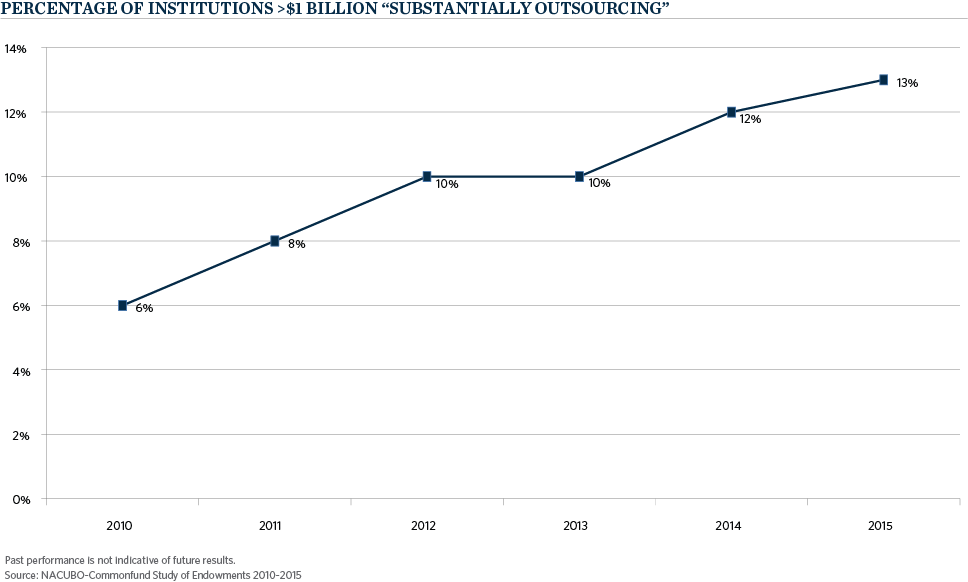 That said, for many investment committee members with fiduciary oversight over pools in this size range, the notion that they outsource the entire portfolio leaves them with a "what do I do now?" feeling. It's important to note that the institutions cited in the chart above indicate that they have "substantially outsourced". While certainly some may have outsourced their entire portfolio, others take an approach whereby they outsource a portion of the portfolio. In fact, we have seen an increase in interest in what we call the hybrid model. This model falls somewhere in between fully outsourced and fully internal and can often be the most effective way to harness the skill, talent and expertise of an investment committee, an investment staff, and an outside investment partner all at the same time.
Clearly, institutions that are not satisfied with the results of their current approach should consider changing their investment management model, regardless of whether they are at or near $1 billion in size. In fact, fiduciary duty dictates that if there is the potential to do better (by increasing returns or lowering costs for example) then a review of your model is a good idea. However, there is nothing magical about $1 billion and trade-offs exist across all investment management models. Fiduciaries must consider all of the pros and cons as well as the costs and risks. When contemplating the spectrum of options in investment management approaches – ranging from a one-stop-shop style fully outsourced solution to a 20-person Yale-style investment office – there are many considerations. Governance approach, investment objectives, broader financial dynamics, overall resources, level of control, level of discretion, liquidity, spending needs, and access to strategies and managers are a few but there are others. As a fiduciary, careful evaluation and understanding of the trade-offs are paramount to the decision process. At Commonfund, we have been working with nonprofits on these types of issues for 45 years. We can provide experience and proprietary insight from the NCSE and the Council on Foundations-Commonfund Study of Foundations to help inform the decision-making process.
More information and resources on investment outsourcing: