Managing investments for missions, ministries and churches.
The Missouri Baptist Foundation (MBF) has a noble calling: to support and strengthen the good work of the show me state's ministries, missions and baptist churches — all giving of their time, talents and treasures to share the gospel, feed the hungry and help those in need.
Established in 1946, MBF today provides investment management for more than $160 million and nearly 1,000 accounts for 275 beneficiary organizations. In fiscal 2013, the foundation distributed more than $13 million to Baptist and other causes in Missouri and around the world.
MBF manages these assets for a wide-ranging clientele. For churches, the foundation helps develop financial resources and provides professional investment management for short- and long-term needs, including assistance with funds management, transformational stewardship and gift planning. For mission and ministry organizations, it helps develop and manage their financial resources and promote giving today for tomorrow's needs. And MBF helps individuals and families as well, with gift planning through estate plans, as well as annuity arrangements.
A glimpse of beneficiary organizations illuminates the foundation's global reach and dramatic impact. Among the examples: New Tribes Mission trains and equips missionaries to spread God's word in tribal communities around the world. Numerous individuals and churches partner with a children's camp in Belarus to provide scholarships and ongoing medical attention to the victims of the 1986 Chernobyl nuclear accident. The Jesus Film Project is a decades-old publisher of the stories of Jesus Christ. And Sports Crusaders is a successful bible school-like sports camp.
Other Missouri organizations touched by the foundation include The Shepherd's Basket food pantry, the not-for-profit Missouri Baptist Hospital and Samaritan Center, as well as children's foster homes across the state.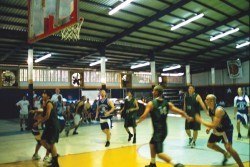 For these and hundreds more organizations like them, MBF enjoys a track record of successfully managing investments to grow principal and provide income. A central tenet of its investing philosophy is social responsibility, with careful screening for alcohol, tobacco, pornography, gambling and abortion.
One innovative new MBF initiative is an endowment program called the "Power of Five." When a beneficiary organization enters an endowment agreement, the foundation contributes $5,000 if the organization matches that amount within one year. Moreover, if the endowment continues, MBF adds $1,000 per year for the next five years as long as the organization continues making contributions to it, bringing the Foundation's total contribution to $10,000.