The venture growth and late stage venture capital ("VC") market has matured over the last 10 years, and direct investing has emerged as an attractive strategy for Limited Partners ("LPs") to complement their existing early stage VC exposure. Having a direct venture growth strategy could augment an early stage VC portfolio by generating attractive risk-adjusted returns with shorter duration and potentially lower risk.
VC is a form of private equity that investors provide to start ups that are believed to have long-term growth potential, particularly those with an emphasis on technology adoption. Historically, a start-up would raise a small number of financings and then consider an initial public offering ("IPO") or a sale to a more established or larger company. Today, growth of the industry has fueled the emergence of many sub-asset classes within VC, which carry different risk-return and liquidity profiles. Investors should weigh the benefits and considerations of each layer of the VC investing stack: angel/pre-seed, seed, early stage, venture growth, late stage and pre-IPO.
One of these sub-asset classes, venture growth, has undergone significant transformation and presents an opportunity for LPs. We define venture growth as Series C or later where a venture-backed company has considerable revenue growth (50 percent + year-over-year) with plans to IPO in 3-5 years. Venture growth deal volume has increased at a compounded annual growth rate (CAGR) of 30 percent compared to 14 percent for early stage venture over the last 10 years1. Later-stage rounds, defined as rounds of $100 million or more, represent nearly 40 percent of financings today, compared to only 16 percent in 20101. Moreover, the COVID-19 pandemic has accelerated global digital adoption — the "tech effect" — across all industries, thus increasing the total addressable market and the potential size of category-defining, outlier companies.
While the best venture backed companies stay private longer and continue to compound growth in the private markets, venture syndicates (the number of investors in a company's capitalization table) have shrunk. For the general partners ("GPs") at the best VC firms to defend their privileged position, invest with outlier companies as they inflect, and accelerate growth for those future category-defining winners, GPs are selectively partnering with LPs as a friendly and strategic source of capital. As a result, there is an emerging opportunity for LPs to employ a dedicated direct strategy that will capture value from the tech effect by layering in capital with top-performing, mid-to-later stage companies alongside their GPs.
Structural Shifts and Market Opportunity
There are three structural shifts under way in VC that have created this opportunity for LPs:
1. Companies staying private longer
The median age of a company going public is 12 years today, which is up from 8 years less than a decade ago1. As companies stay private longer, value is accruing to private investors and away from public investors. As an example, Google went public as a six-year-old company in 2004 at a $23 billion valuation, and by 2006 over 80 percent of Google's value had been created in the public market2. In contrast, the largest private companies today, such as Bytedance (the parent company of TikTok) and SpaceX have grown to multiples of Google's value at IPO while staying private. Given the amount of private growth capital available today, companies can secure "private IPO" rounds of $100 million or more to continue growing exponentially without having to raise from public investors. By the time companies reach the public market today, they typically have already experienced exponential growth and have scaled to the point of being well established and/or market leaders.
2. Advent of platform VCs and the rise of opportunity funds
"Non-traditional" investors including hedge funds, mutual funds, sovereign wealth funds and corporate venture capital have either entered or tried to enter the venture ecosystem. In response to increased competition, established VC firms have fought to limit syndicate partners. GPs are also layering additional capital in their outlier companies, which enables them to leverage their information advantage and build significant ownership ahead of an exit. Several elite VC firms now have a full-stack platform strategy that allows them to back companies from the seed stage all the way through IPO. More niche VC firms have also seen the market trend and raised "opportunity funds" to double down on their highest conviction companies. As GPs look to keep their best companies close to the vest, they have found it valuable to partner with non-competitive LPs that have dedicated direct strategies allowing them to provide value and discretion, move decisively, and maintain a strong relationship with the GP.
3. Increasingly attractive risk-return profile of the venture growth stage
Because the best companies are scaling to unprecedented size and maturing in the private market, the risk-return equation has improved at the venture growth stage. Early stage exposure remains critical to a balanced venture strategy given higher cash-on-cash multiples, higher probability for outsized performance, and the ability to capture global innovation independent of macroeconomic cycles. However, now that companies are staying private longer and tackling larger-than-ever markets, there is an opportunity to generate venture-like returns with select investments at the venture growth stage. The inflection point at which companies exhibit the potential to "break out" and become category winners typically occurs during the Series B or C. At this stage, a promising company has been de-risked from a revenue model and product-market fit perspective with an established and growing team, while still having significant growth ahead. Companies at this stage are in the sweet spot of having relatively low risk with the potential for outsized, venture-like returns. Top-performing companies at this stage are extremely access-constrained given the attractive risk-return dynamics, but LPs with a direct strategy may be able to invest alongside their fund managers into such companies.
So, why implement a direct venture strategy?
Value is accruing from public market to private market investors. LPs with a direct strategy gain access to a curated portfolio of GPs' highest conviction companies, hand-picked by GPs who seek to layer in capital with their "winners" that are on the verge of breaking out.
Complements existing early stage exposure. Having a venture fund-of-funds strategy can provide LPs with diversified global exposure to early stage venture with potential for outsized cash-on-cash multiple performance, while employing a direct strategy gives LPs a chance to generate attractive time-weighted returns with faster capital velocity (direct funds are typically fully invested within 3 years versus 5+ years for a fund-of-funds) and time to liquidity (5-7 years versus 10+ years for early stage).3
Illustrative Risk and Return Perspective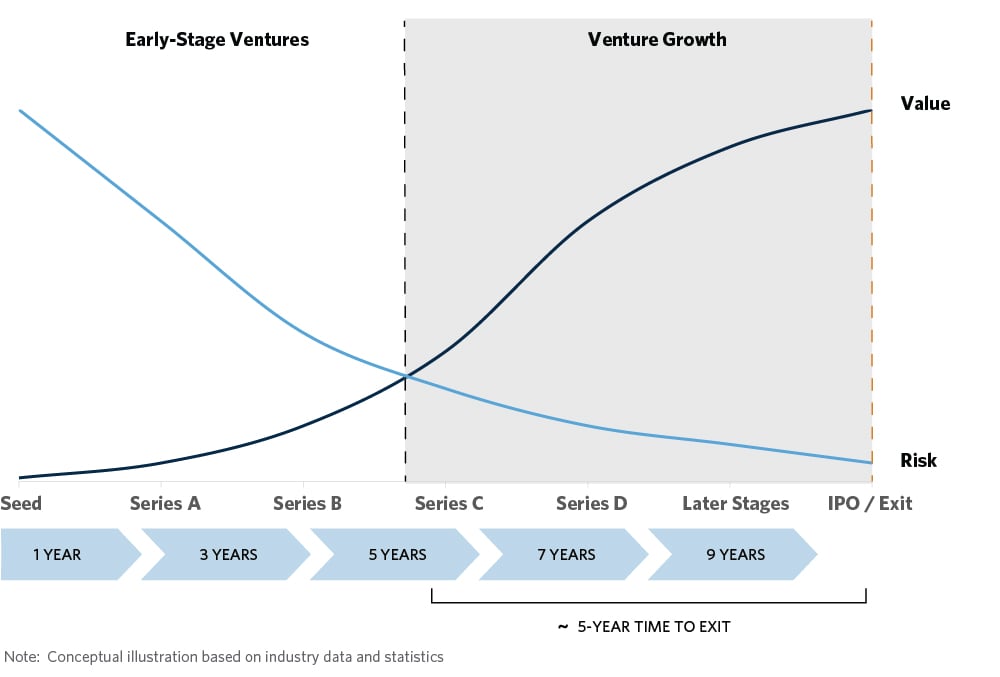 To implement a venture direct strategy, we believe, an investor should have:
Deep network and relationships with top tier GPs who have potential breakout companies in their portfolio.
Internal capabilities to evaluate and underwrite investments independently, while leveraging information advantage and industry wherewithal to augment due diligence.
Experience, governance, internal processes and infrastructure to move quickly and with conviction when an investment opportunity arises. Speed of execution, value add and industry experience are the key differentiators for GPs as they choose which LPs to work with.
Potential investors should determine the role of direct investments within their broader portfolio. Committing to a direct strategy can provide meaningful exposure to category-winning companies while complementing a diversified early stage venture strategy.
Illustrative Early Stage to Venture Growth Comparison
Early Stage Venture
Venture Growth
Risk / Return

Higher risk / return profile
Technology, execution and team risk
High loss of capital risk

Mid / lower risk
Execution risk
Moderate loss of capital risk

Time to Liquidity
Business Model

Conceptual / In Development

Proven / product-market fit

Revenue Scale

Pre-revenue to limited revenue

Team

Founder driven with key hires

Product and corporate functions in place
Source: PitchBook
Source: CapitalIQ
Approximate ranges are based on industry data and statistics