Institutional investors continue to increase allocations to private strategies.
Commonfund Capital's fourth annual private markets investor sentiment survey shows trends continue despite the pandemic and recession in 2020.
Over the last few weeks, Commonfund Capital conducted its annual, year-end private markets survey of institutional investors and advisors. Survey responses totaled 255 investors, representing 400 institutions and $725 billion in total assets. The survey covered three areas:
Headline industry concerns related to private equity and private capital investments;
Performance potential of commitments made in 2021 to various private capital strategies; and
Allocations trends to such private strategies.
We note that had the timing of our annual survey been earlier in the year, we suspect that the responses would be quite different. Below are the summary results.
Headline Concerns
Investors' top concerns were in three areas:
Prices are getting frothy (the valuation uptick of purchase price multiples being paid in some sectors) – 58 percent of respondents rating somewhat to very concerned;

The overall direction of industry fees and terms – 40 percent rating somewhat to very concerned; and

Growth of the industry's fund sizes (the overall increase in the fund sizes from one fund to the next) – 40 percent somewhat to very concerned.
We share these concerns, which help to inform our investment point-of-view and portfolio positioning. We have observed better pricing in the smaller end of the market, and, as a result, our private equity portfolios have a distinct tilt toward small- and medium sized-funds that are focused on smaller companies.
We note that these top three concerns were in the same order of last year's top concerns, but the weights of each of these concerns were statistically lower this year versus a year ago. The bar chart below shows the percent of respondents as "very concerned" one year ago versus today.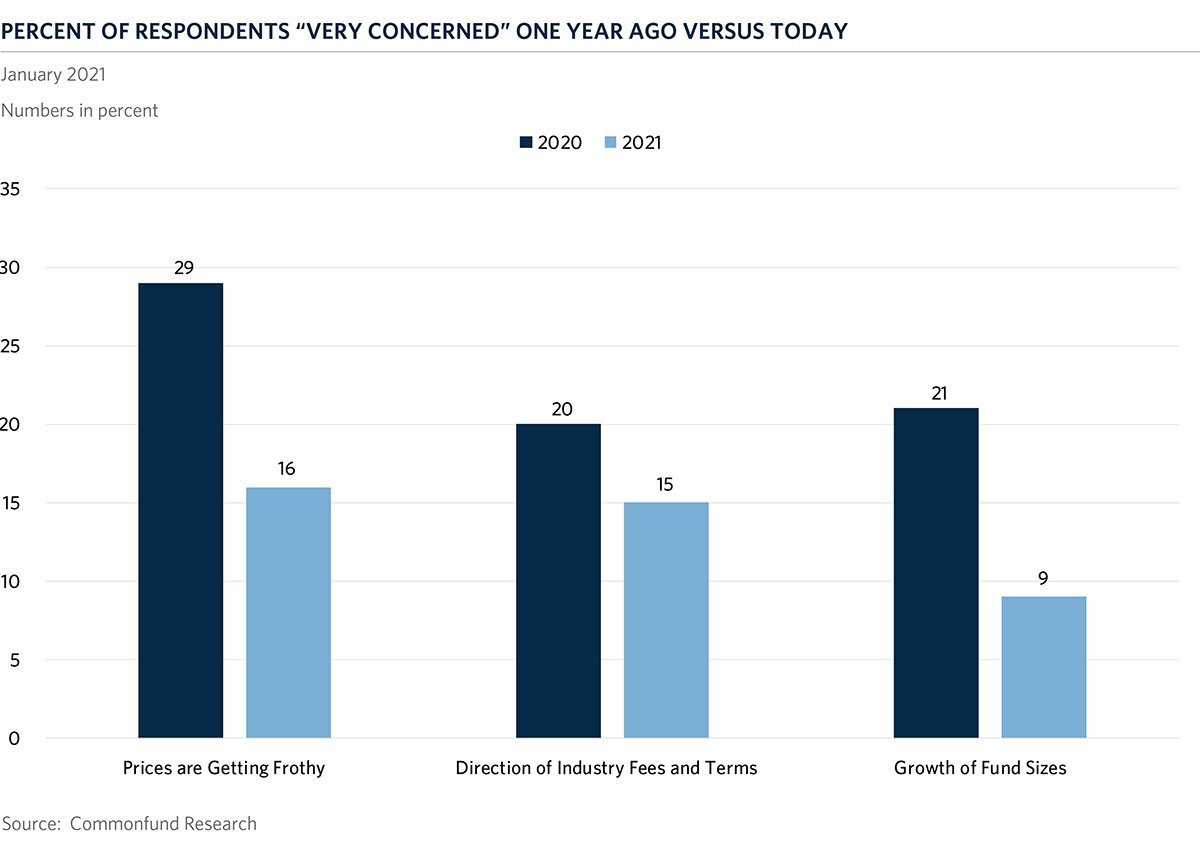 This year investors shared a record number of comments punctuating their industry and other concerns, including the difficulty of finding and accessing top funds, global tensions, potential changes in regulatory and tax structures and their impact on entrepreneurship and returns. Several investors expressed concern about the impacts of the COVID pandemic on their operations and missions and how this may affect their allocation ranges in 2021.
Performance Potential
Investors again ranked U.S. private equity (small and medium- sized buyout funds) first in terms of performance potential for commitments made this cycle with 58 percent indicating above average or high return potential. They further indicated that they continue to see more robust return potential when working with sector specialists versus generalists and where general partners take a more "hands-on" approach with their portfolio companies. We agree — and we practice this active management theme across our buyout strategies, venture capital and real assets & sustainability.
Following first-ranked U.S. private equity (small and medium-sized funds), investors rated the performance potential for venture capital and co-investments (57 percent and 46 percent above average or high return potential, respectively) as strategies with higher return potential for commitments made in the 2021 cycle.
We note that from a conviction perspective, the percentage of investors expecting performance potential for each of the top three strategies noted above increased versus last year as did the expected performance weightings to secondaries and private capital in emerging markets.
Allocation Trends
The year-over-year survey data reflect an overall increase (a continuing trend) in planned allocations to private market strategies. The leading strategies where investors reported their planned allocations would be trending up the most, were to small and medium-sized funds in U.S. private equity (led by sector specialist buyout funds at 40 percent trending up, followed by generalist funds at 33 percent). These were followed by increased allocations to venture capital at 38 percent, secondaries at 30 percent, and co-investments at 28 percent.
We note that the top two strategies witnessed a widening percentage of respondents indicating they anticipated upward trending allocations to smaller U.S. private equity sector specialists buyout funds and venture capital funds this year over last year. The bar chart below demonstrates the trending up direction one year ago versus today.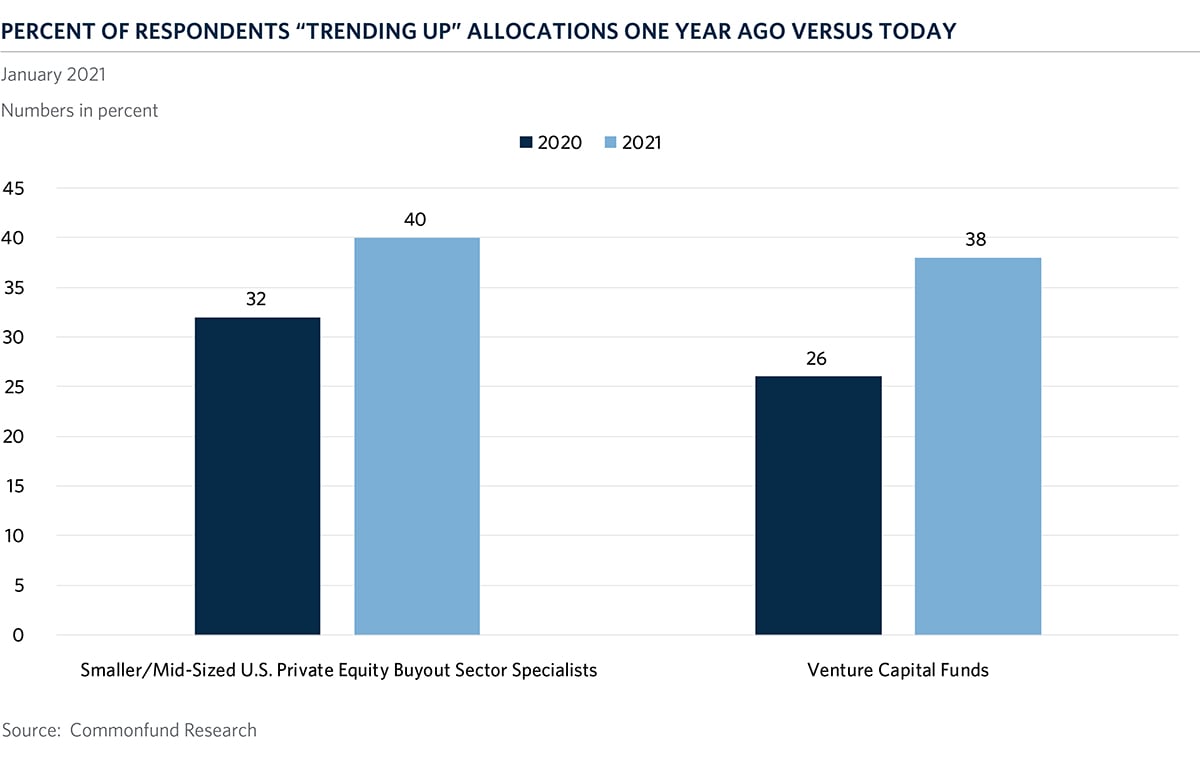 Overall, investors indicated a reduced allocation to private natural resources and energy offset in part by increased overall allocations to private equity-styled environmental sustainability. This year, 23 percent of investors indicated an upward trend for sustainability investments, which represented a 35 percent increase as compared to last year's survey. We suspect this is driven in part through policies addressing climate change and actions to reduce carbon impact, and due diligence procedures that embrace select ESG and impact strategies, particularly within environmental sustainability-themed sectors.
In looking more closely at the upward trend in allocations, we observed four, interrelated characteristics:
The number of organizations that have lifted their temporary "holds" and short-term pauses on private capital commitments (particularly in the third and fourth quarters) that are actively in the process of building toward their target allocation ranges. In addition, we see number of investors that have recently adjusted upward their target allocation ranges for private capital strategies;

An increased understanding of the need to dollar-cost average over time and not to try to time markets and not to skip cycles completely;

A distinct and growing interest in finding and accessing sector specialists with more modest fund sizes that target small and medium-sized companies; and

The number of investors seeking more attractive returns in the private markets as opposed to the public markets this cycle. It is the point of view of many investors that more active management may contribute not only to returns this cycle but may also serve as risk management factor to more passive, beta elements of their total portfolio.
Editor's Note: Commonfund would like to thank the members of the Commonfund Capital Advisory Committee for their guidance in this survey and the investors who took the time to share their input; please know that your participation is valued and appreciated.