Energetic youth in 'America's oldest city'. St. Augustine is the oldest continuously occupied European-established settlement in the continental U.S., having been founded in 1565. Flagler College is a mere four centuries younger, having been founded in 1968. But the sense of place that goes with being situated in the heart of St. Augustine clearly helps to define the college.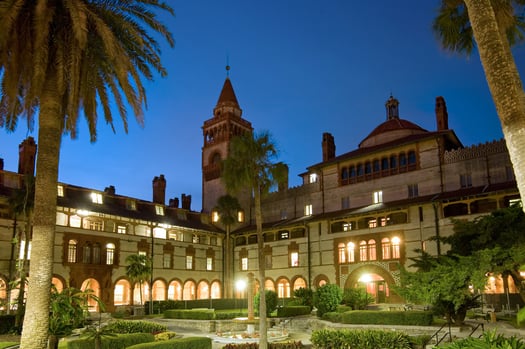 In Florida, there is only one Flagler—the legendary Henry Morrison Flagler, industrialist, partner in Standard Oil and founder of what would become the Florida East Coast Railway, the key to his dream of developing Florida as "the American Riviera." The first of several destination hotels built by Flagler, the Ponce de Leon opened in 1888 and was an instant success.
Eighty years later, the hotel was gifted to Flagler College when the institution was founded by Lawrence Lewis, Jr., one of Flagler's principal heirs. Today, that historic building is Ponce de Leon Hall, centerpiece of the campus and home to the main dining hall, a women's dormitory, administrative offices and event space. Over the years, the college has spent some $60 million to restore the hotel and other historic buildings on campus and to add new facilities.
With a student body of about 2,600, Flagler is a comprehensive liberal arts institution offering a wide range of majors and minors with an emphasis on liberal arts, business and education. In the latter, the college is a leader in education for the deaf, in part because under­graduates gain skills and experience at the Florida School for the Deaf and the Blind, which is located in St. Augustine.
Sports management is a relatively new major that has already produced executives leading professional teams, while another recent initiative is a major in coastal environmental science (the lab, a.k.a. the Atlantic Ocean, is only five miles from campus).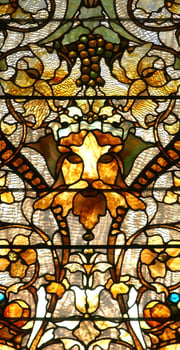 Flagler College's historic environs inject a sense of community into its DNA. One community contribution is a public administration program in which federal, state and local employees with two-year degrees may attend classes at night and on weekends to earn their bachelor's degree. The program is attracting students from several counties in northeastern Florida.
In business, it may be natural for a young college to be a breeding ground for entrepreneurial thinking. Flagler's own breed focuses on helping others in innovative ways. The college's Enactus team recently won its third national championship and went on to the Enactus World Cup in Mexico. Enactus is a nonprofit organization active on some 1,500 campuses in 39 countries. Enactus teams seek to create economic opportunities in their communities by organizing a range of economic, business and financial outreach projects. Flagler's Enactus graduates have been hired by Google, Walmart, GE, Lowe's, Aflac, Disney and Home Depot, among others. Henry Flagler would be proud.
Flagler College's Ponce de Leon Hall is a National Historic Landmark. Louis Comfort Tiffany designed the interior, which includes some of his stained glass (shown at left).