Much to the surprise of market participants, global stocks have risen at an impressive pace year to date despite significant macroeconomic headwinds and regional bank troubles. In what can be deemed a "market reversal" last year's laggards have been this year's leaders driving equity market performance as seen in this Chart of the Month.
2022 was a story of high growth sectors such as Information Technology and Communications suffering in the face of steep interest rate hikes and dampening expectations for future earnings. In the 1Q2023, signs of moderating economic activity, declining inflation, and hopes of a Fed pause drove performance for those sectors and led to a broad change in S&P 500 leadership.
Large cap growth stocks led the way in the U.S. as the Russell 1000 (7.46 percent) outperformed the Russell 2000 (2.74 percent) by almost 500 basis points as large cap growth names outperformed their small cap counterparts by 8.30 percent. The top 10 performing positions were widely distributed amongst sectors including consumer discretionary, health care and industrials. However, three index behemoths sat at the top of the leadership. Nvidia, Meta and Tesla were the top performers with returns of 90 percent, 76 percent, and 68 percent, respectively. Eight of the bottom 10 performers were in the financial sector.
The FAANG +M1 contribution to performance was outsized for the first quarter accounting for 61 percent of the S&P 500 returns: 4.57 percent out of 7.50 percent. When adding NVIDIA and Tesla, the contribution rises to more than 6 percent of the index total return. The large contribution to performance from this basket of names also explains the growth heavy NASDAQ 100 having its best 1Q performance since 2012, returning 20.8 percent. This has resulted in the S&P 500 looking more concentrated again, with these names comprising 21.3 percent of the benchmark index versus 18.3 percent at the end of 2022. If we include Tesla and Nvidia the concentration is almost 25 percent of the S&P 500. This same group within the MSCI ACWI only comprise 13 percent of the index and accounted for 41 percent of the 1Q2023 return.
It remains to be seen if these trends in the equity markets are sustainable as 2023 progresses. However, significant headwinds suggest that the continued strength in the equity markets will be hard to maintain. Thus far, corporate earnings for 1Q2023 have been positive but less than 10 percent of S&P 500 companies have announced results. Prior to the end of the 1Q2023, the highest number of S&P 500 companies issued negative earnings guidance for a quarter since 3Q2019. Overall, this does not bode well for the outlook for equities but does align with the economic backdrop as corporations struggle to maintain operating margins in a slowing economy.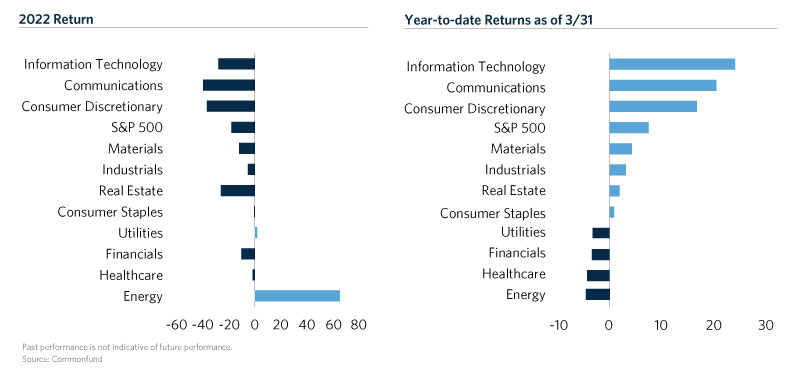 FAANG+M references a basket of stocks including Facebook, Amazon, Apple, Netflix, and Google (Alphabet) + Microsoft.