In the fall of 2018, Commonfund announced the creation of its Diversity and Inclusion Office with the mission to "intentionally promote and foster inclusion and equity across Commonfund and our investment process, thought leadership and professional and organizational development."
As a result, the Office brings together the three core elements of Commonfund: a focus on the inclusion of diverse managers within investment portfolios, a desire to advance the understanding of the value of diversity and inclusion and serve as the central clearinghouse for information on diversity and inclusion in the asset management industry, and finally, to provide firm-wide opportunities for professional and organizational development.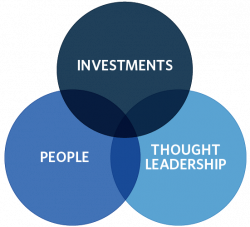 As part of our efforts to expand our universe of diverse managers, and ultimately, the number of diverse managers we invest with, over the last year Commonfund built a cross-asset class Diverse Manager Database of managers that we have met and evaluated. The first objective of the database was to determine the size and depth of our diverse manager universe, relative to the broader "known" universe available through traditional database sources. The result of this project was to show us that while we have made substantial progress in expanding our coverage and investment with diverse managers, we realized we can do better and must do more.
To that end, we are excited to launch the next wave in our Diverse Manager investment efforts: the development of a Diverse Manager Portal. The Portal is designed to facilitate the receipt of investment information specifically from diverse managers (defined as firms with 33% or more ownership by women, people of black or African American, Latino/Hispanic, Asian, Native or Pacific Islander descent, veterans and/ or people with disabilities).
The Portal comes with a pledge to review every manager who submits their materials. Managers who submit their performance, presentation and due diligence materials between September 1st and November 1st will have their submissions reviewed before year end. Based on the outcome of this exciting program, we will determine future steps at that time.
Investing in diverse managers is not simply a social justice issue, it expands our client access to investment talent. In 2018 we published a blog on investing in diverse managers. In that blog, we referenced a 2016 study sponsored by the Knight Foundation, conducted by Professor Josh Lerner of the Harvard Business School, that demonstrated that top quartile diverse manager performance is in line with the top quartile performance of the broader investment universe for mutual funds, hedge funds, private capital and real estate. Lerner's study was updated in 2018 and his results reconfirmed the findings from his original study.
With an expanded database of diverse managers, our hope is to increase the number of investment prospects for our clients, giving them access to a broader array of investment talent.
Visit our Commonfund website today to learn more about

responsible investing.