Unless you've been on a remote island with no Wi-Fi for the past nine months, you are well aware that it has been a rough start for capital markets. In fact, it has been a historically rough start to the year for a traditional stock/bond portfolio.
We analyzed the returns of a 70 percent S&P 500 ("S&P") and 30 percent Bloomberg Barclays U.S. Aggregate Bond Index ("AGG") portfolio and were surprised to learn that this was the worst start to a calendar year through the month of September since…well, ever1.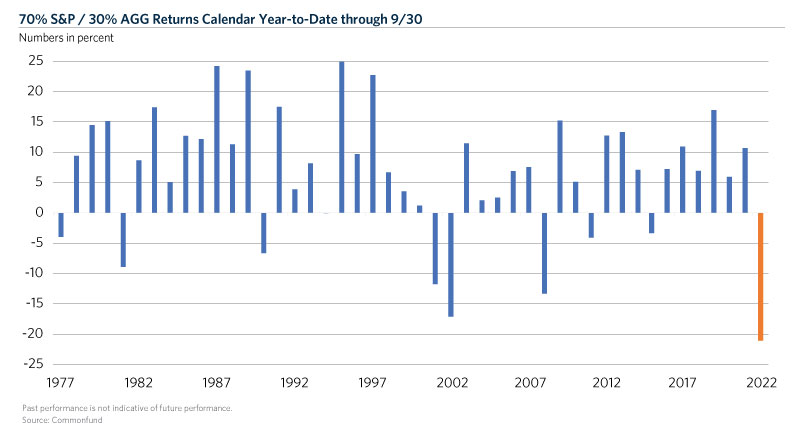 We then analyzed all rolling nine-month returns of this 70/30 portfolio back to 1976 and unfortunately it doesn't tell a better story. The calendar year-to-date return through September 30, 2022, ranked as the fifth worst nine-month stretch for this traditional U.S. portfolio ever. Across 541 data points, that means we're currently living through the worst 1 percent of this data set, or roughly three standard deviations2 away from the mean. The only worse stretch occurred during the 2008-09 Great Financial Crisis.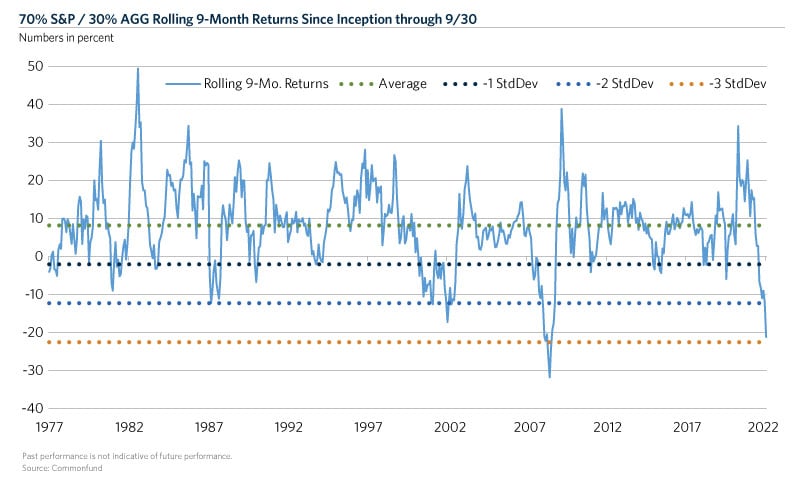 On a brighter note, a portfolio employing the "endowment model" of investing, which incorporates various diversification levers mainly through alternative investments like private equity, private credit, hedge funds, natural resources, etc., has fared much better to start the year. Some of those asset classes, namely hedge funds and natural resources, were the most "unloved" parts of the market over the past several years. Those who stuck with them, however, are sure glad they did in 2022. We like to tell our clients that you're not fully diversified unless you really dislike something in your portfolio. Right now, unfortunately, that's stocks and bonds. However, for those investing with a long-term time horizon these types of severe market returns have a historically presented compelling buying opportunities.
Inception date of the AGG is August 1976

https://www.investopedia.com › ... › Financial Ratios
Standard deviation is a statistic that measures the dispersion of a dataset relative to its mean and is calculated as the square root of the variance.